The Significance and the Benefits of
Digital Content Marketing
"SOCIAL NETWORKS AREN't about websites. they are about experiences "
Mike DiLorenzo, nhl social media director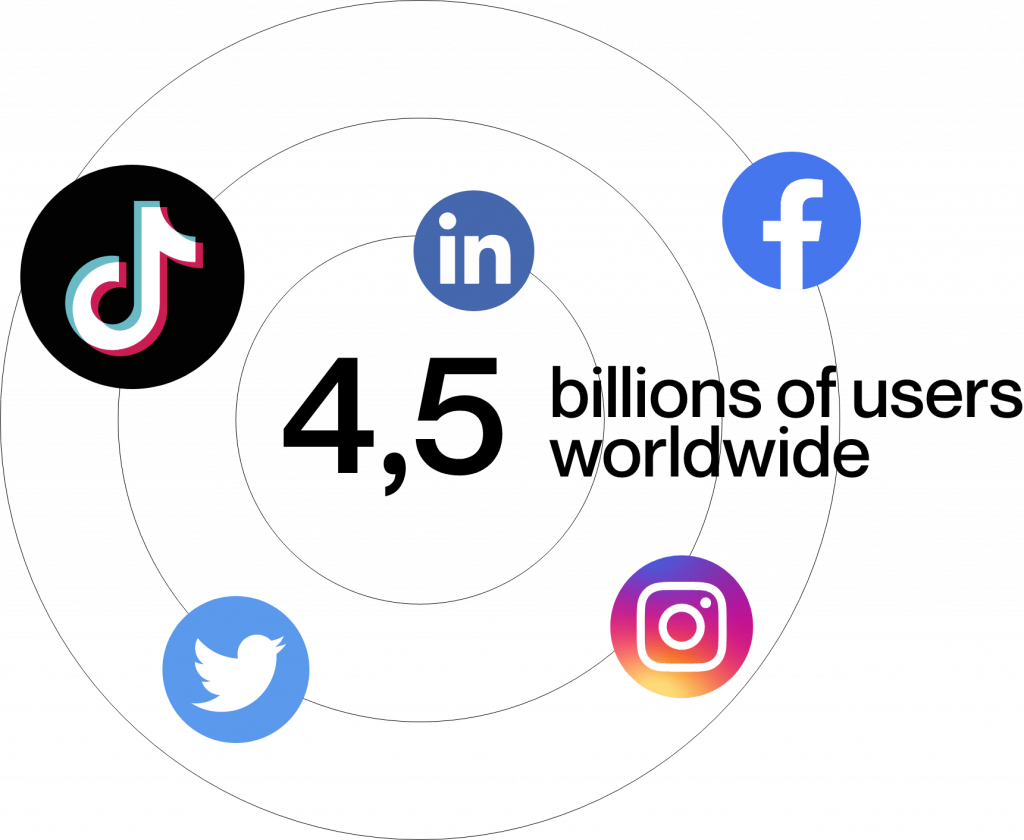 Digital content marketing is an essential aspect of digital branding services that helps reach your potential customers through informative and engaging content. By producing and disseminating pertinent articles, films, podcasts, and other media, content marketing aims to catch the attention of the audience and engage them with your brand, so that people are encouraged to buy your products and services. It also helps boost brand awareness in a competitive business environment. It is an effective method for retaining existing customers and bringing in new clients to your business. A digital content marketing agency is typically involved in providing a full range of content marketing solutions, including social media content creation services, web content creation services, and more.
Content marketing typically involves the creation and distribution of engaging and useful content such as articles, blogs, newsletters, white papers, social media posts, emails, videos, and more. It is a go-to tactic that's proven to work for brands and businesses. Also, it provides a competitive advantage to brands, and there are many other benefits of using it as a part of your marketing campaign such as:
Content marketing is a proven way to attract more clients and website visitors. You can gain more online visibility by providing them with interesting content on a subject they are interested in through your website or social media profiles. It helps your business to gain better exposure and stand apart from your competitors.
Let's take the example of Thibault Louis, a relentless solopreneur of Linkedin posts.
In 24 months, he has built a solid audience, 79K loyal subscribers and millions of views in total.
When content marketing is employed effectively, it helps boost quality traffic to your website. There is a high chance of converting web visitors into customers. In this way, it is one of the most effective ways to generate more leads for your business.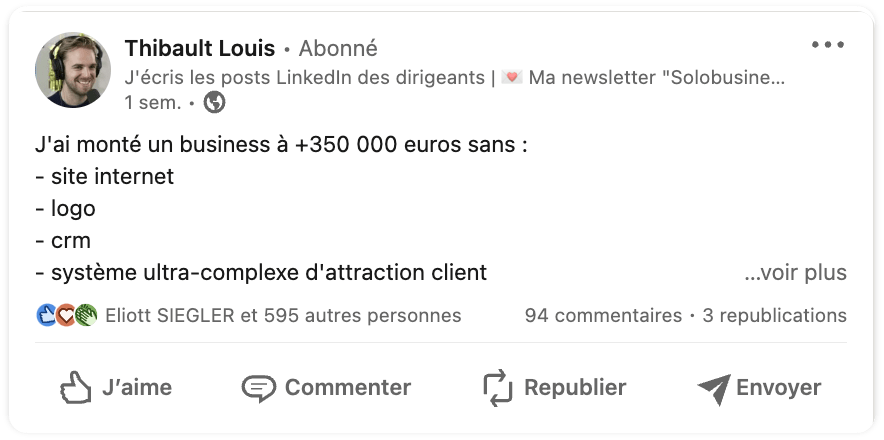 One of the most telling examples on Linkedin France. Its visibility has risen exponentially and is now considered as one of the references in terms of visibility on Linkedin. This visibility brings him a constant source of leads that turn into customers and guarantees him a guaranteed source of income.
Consumers who are educated about your brand are more likely to trust you and feel more at ease making purchases from you, which helps you create more leads and begin to build relationships with potential customers.
Linkedin is the leading platform for social selling, it is the number one in terms of buying incentives for B2B decision makers
Customer loyalty is crucial for any business, as it encourages repeat purchases from your customers. When there is interesting content on your site or social media profiles, customers and visitors will have more reasons to stick around. As more people get familiar with your brand, it helps in gaining more trust and leads to higher conversion rates.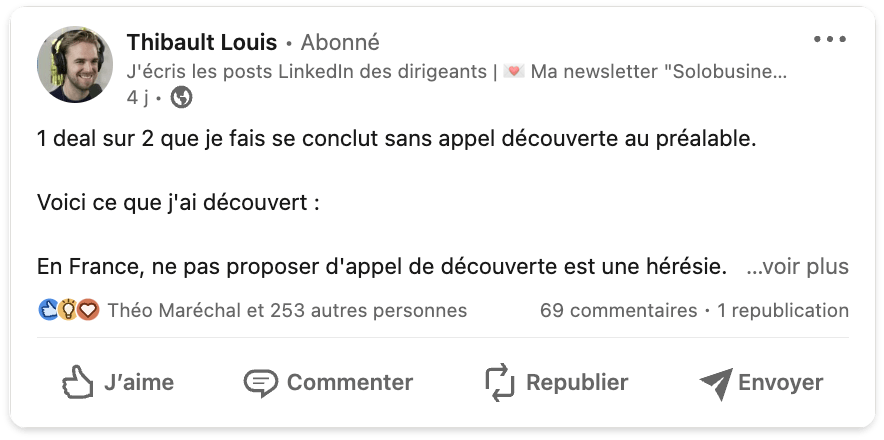 Loyalty is a consequence of unfailing transparency, Thibault Louis puts his cards on the table, how much he earns, how much he charges, and how much he does not want to rely on a system in which he does not recognize himself.
More transparency = less initial friction with incoming leads as there is less suspicion / doubt about the offer.
An ROI that is not easy to calculate
and yet
Calculating the return on investment (ROI) of social media marketing can be difficult, as it is hard to directly measure the results of social media marketing efforts. Marketers need to link social media data to business results, which can be a challenge. Companies need to understand that ROI can be measured in a number of ways and can be calculated based on conversions, leads generated and profits made from social media marketing. In addition, marketers should also take into account additional costs such as advertising costs and social media management costs when calculating ROI.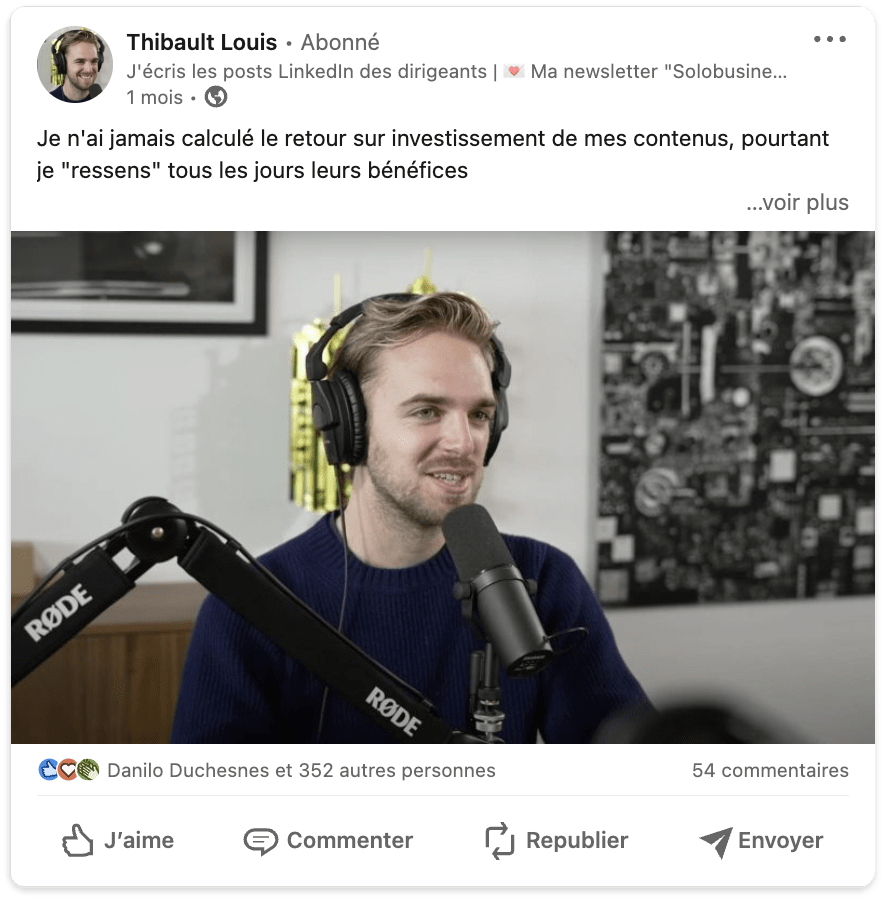 I think we need to stop overthinking the ROI of social media. We have the example of all the great leaders. Companies with a CEO who is a public figure perform much better than others, simple example with TESLA who never needed to advertise.